Added armor to the list, you can stop using comments to get the debug name of armor.
______________________________________________________________________________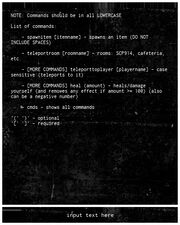 The Console can be used by being in the safe mode difficulty in-game. In safe-mode you cannot earn badges/player-points from escaping.
You need the console commands gamepass to unlock the console. If you bought it from the website while in-game you will have to rejoin for the console to work. To open the console you hit either C or F3. Commands can be activated by typing in the box any command (ALL LOWERCASE) and then the parameters.
Example: Typing "spawnitem omni" in the input box spawns an omni card in front of you.
These are the console commands:
playmusic [Music Id]
spawnitem "item name" - spawns an item
teleport / teleportroom "room name" - teleport to a room (See Room List)
[more] teleporttoplayer "player name" - teleport to a player (restricted to people who has a weapon/infection)
heal [amount] - heals yourself... you can also use negative amount to damage yourself.
[admins only] spawnscp - spawns a scp
cmds - shows commands
[WIP (Work in progress)] spawninv [item name] - spawns an item in the users inventory
[WIP] listitems / itemlist - list the items that can be used with spawnitem command
Abusive commands such as teleportplayer and spawnscp are disabled. Nine-Tailed Fox, Chaos Insurgency, and Infected cannot teleport to players as they can kill/infect people if they teleport directly to them.
Main article: Room List
== Items
ak-74 - AK-74
vest | ballisticvest | veryfinevest | finevest
helmet | veryfinehelmet (not sure if ballistichelmet works) finehelmet
The use commands were disabled because it was too laggy and abusive. it is back now though
The design of the command console is based on earlier versions of SCP:CB.
To use the console, you have to Buy™ a game pass.
You can gain access to more console commands by Buying another gamepass.
If you give out the itemname for the MP7 or the HK, you are stupid and (or) dumb.
Why you should not leak the guns.  
Community content is available under
CC-BY-SA
unless otherwise noted.